5 Of The Top Fall Hiking Spots This Year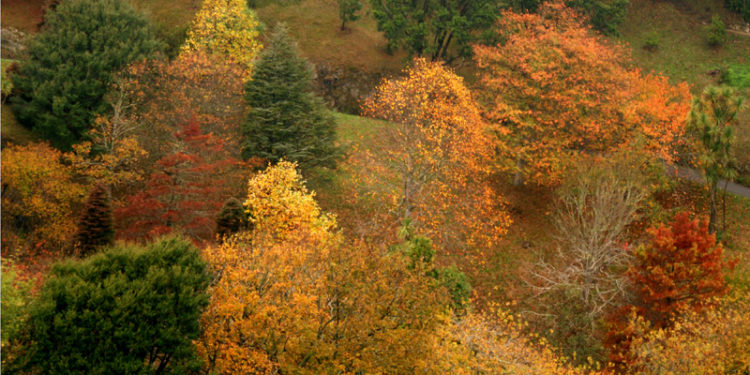 There's no better time to go hiking than the fall. Landscapes become rich with stunning colors and scents, the temperature cools down, and the world feels a little more peaceful than it does in full-blown summer. Wherever you go for a hike, you're in for a treat, but there are some spots that the avid hiker just can't miss. These are North America's hiking trails worth traveling to.
#1 Acadia National Park, Maine
Once in your life you have to make the trip to Acadia National Park, especially in the autumn. There are over 120 miles of trail, so you can find some peace and quiet even at one of the United States' most visited national parks. In Maine, full fall foliage tends to peak in early October.
#2 Breakneck Ridge Loop, New York
Get out of the city without a car by escaping New York on the Metro-North line. Breakneck Ridge Loop is also a must-visit destination for rock climbers, with incredible views of the Hudson River Valley. Get a bird's eye view of the enchanting valley that's home to Sleepy Hollow and Rip Van Winkle.
#3 Bruce Peninsula National Park, Ontario
Canada's oldest and longest hiking path runs for an impressive 750 kilometers, running from Niagara Falls all the way through the Niagara Escarpment to Tobermory, where it ends in Bruce Peninsula National Park. Expect stunning colors and dramatic views of Lake Huron, but temperatures can cool down quickly near such a large lake.
#4 Maroon Bells, Colorado
Aspen's stunning gem, Maroon Bells combines mountains, woods, and water and some truly unreal vistas in the fall. Golden aspens color the landscape and they're brilliantly reflected in Maroon Lake.
#5 Shenandoah National Park, Virginia
No list of fall hikes would be complete without the challenging Shenandoah National Park, which provides some of the most incredible views available on this list.
Anytime you go on a fall hike, you need to be prepared for cold weather conditions. There's a lot of hiking gear you need to be prepared: food and water, a flashlight, a map and compass, a rain-proof jacket. One item that you will appreciate when the temperature sinks is thermal socks. They can help you control the temperature and make your feet more comfortable on those long treks. Check out Heat Holders thermal socks to find the warmest socks available. They have a variety of options including lite, ultra lite, and original thermal socks to provide varying levels of warmth.
The company provides the highest quality thermal socks, proven to be three times warmer than other thermal socks. Their original thermal socks are ideal for hiking, while lite versions can be worn in any casual shoes like sneakers, and ultra lite can even be worn in dress shoes. They use superior thermal materials and techniques to find a better way to make thermal socks and keep people warm. Thermal socks are a must-have accessory when you go exploring the natural wonders of the world. Don't forget your thermal socks on your next fall hiking adventure!