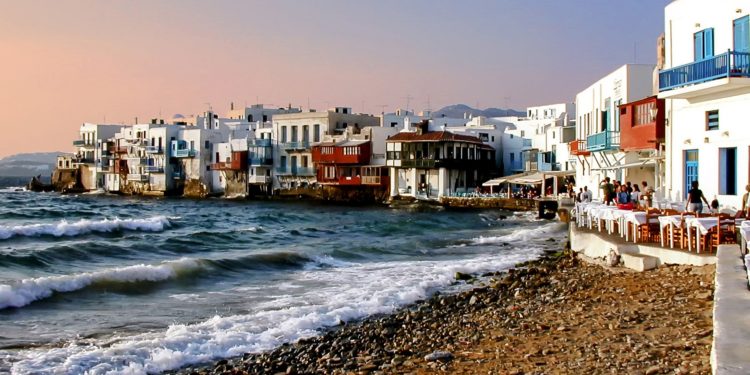 Are you and your closest girlfriends looking for the perfect destination for your next holiday? You should definitely think about whether you want to rent a villa in Mykonos. This sunny Greek island is home to some of the most amazing sites and experiences you could ever ask for. Whether you just want to lie on the beach and do nothing or head out every night for a party, Mykonos is waiting for you!
The Villa
It's a girls' holiday, so why not go all out and rent a villa in Mykonos by BlueVillas. These luxury villas have everything you could possibly want from a place to stay. They are great for anyone wanting a little more privacy on their holiday.
You can also opt to be just a short walk away from the beaches and the nightlife of Mykonos Town. If your gal pals are party animals who love to sunbathe all day and head out for a drink and a dance as the sun sets, this could be the perfect option for you.
Nightlife
Mykonos is renowned for its many bars and nightlife hotspots and you are going to want to check out more than a few while you are there. For the best of the best, head to Babylon. This famous gay club hosts drag nights, fun themed events, and a great mix of classic tunes and the latest hits.
For more of a dance and plenty of space to do it in, head to Void. It is one of the newer clubs on the island and the experienced DJs will whirl you all ways with house and techno music.
Finally, if you are after a classy night out rubbing shoulders with celebrities and other high society, dress in your finest and head to Astra. This club has been on the Mykonos scene for 30 years and isn't going anywhere soon. It is perfect for both a quiet drink in the early evening and a dance as things heat up further into the night.
Daytrips
If you are on the hunt for something to do during the day, Mykonos's central location makes it the perfect starting point for any number of daytrips. You could very easily set off for a day on another island and arrive back on Mykonos just in time for dinner and some cocktails while the sun sets.
One of the best daytrips for history-minded folks is over to Delos or Rhenia. These two islands are close together and could easily be visited together with the right skipper at your helm. Rhenia is completely uninhabited and is home to little bays perfect for snorkelling and private beaches where you could grab a picnic. Delos is the birthplace of Apollo and Artemis in Greek Mythology and, while no-one lived there, the island is filled with sanctuaries and other points of interest everyone in your party is sure to love.
You should also consider heading to Paros. This trip can take as less than an hour and gives you an entirely new island to explore. Renting bikes gives you a way to zip around the island, with a complete circumnavigation taking approximately 3 hours, and you should definitely head to Golden Beach to check out the water sports scene.
Staying on Mykonos
Fancy staying on Mykonos during the day? There is still plenty for you to see! Many companies offer small walking tours around Mykonos town itself if you are wanting to soak in a little of the local culture. Otherwise, head inland to Ano Mera for an idyllic and beautiful town completely different from anything you will find on the lively coasts. If you are looking for a beach to while away some hours on, Agio Sostis in the north is quiet and isolated. If you want a breather from the hustle and bustle of the town, this could be an ideal retreat.
If you do want something a little livelier, you should head to the beautiful sands of Kalo Livadi. This beach can be crowded in the summer with both locals and tourists but it still should not be missed. It could be the perfect place for you to catch some rays before taking a dip in the Aegean Sea.
Relax
Mykonos has so much to offer all its travellers. Between the beautiful beaches and bustling bars, there are so many things a group of girlfriends can get up to. Who wouldn't want the chance to stay in an amazing island with their closest friends?
If you are looking for the perfect destination for your next group holiday, Mykonos has something to offer everyone. What are you waiting for? Start looking for a place to stay and start your great Greek adventure now! It might be the best girls' holiday you could ever go on.